Khomani San Bushman leader Oom Dawid Kruiper sadly passed away on Wednesday 13th June. Uncannily, this was also the same day we posted our previous MNE#16 photo story "Welcome to the Kalahari".
We had the privilege of meeting the charismatic Oom Dawid just before entering the area of the Kalahari/Kgalagadi under his custodianship. Of course, he gives the permission and the key to the gate to access the land.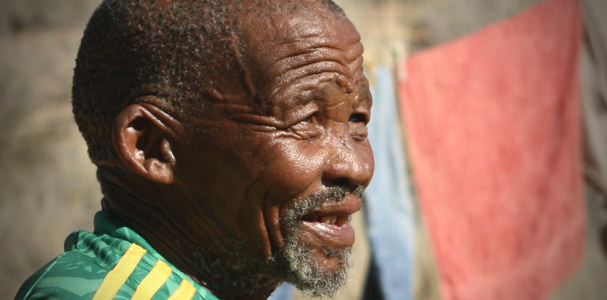 Despite his celebrity status, Oom Dawid and family resided in the simplest shelter imaginable, little more than a few wooden poles and thatch.
Oom Dawid achieved much for his people, but his ultimate dreams for the Khomani Bushmen remained unrealized.
You can more read news releases pertaining to Oom Dawid's life and achievements. They include everything from starring in the God's Must Be Crazy movies to addressing the United Nations in Geneva on the rights of indigenous people, securing 40,000ha land for the Khomani people in the Kgalagadi, and hitchhiking down to Cape Town to express his disappointment about the Khomani's plight to former South African president Thabo Mbeki. Oom Dawid was passionate about preserving old Bushmen traditions, especially tracking, hunting and bushcraft.
In our last post we referred to "Johan" as our guide for our days spent in the Kgalagadi. He is actually one of Oom Dawid's sons and, at least at that time, had been chosen by his father to be his successor. We wish him the strength and courage to follow in the huge footsteps and legacy left by his father. And to take those gentle but powerful Bushmen steps forward in realizing fading dreams.
It is interesting that this previous post should have been released on the day of Oom Dawid's passing, particularly as the reason for our wait outside the gate which led to us seeing the praying mantis was because one of our party had to return to get the key from him.
Oom Dawid revered the Gemsbok (Oryx) and we imagine he would have been intrigued knowing that we saw the Mantis on the Gemsbok skull at the entrance to the land which his hard-fought efforts secured.
Oom Dawid, may your soul dance. And for your people and land.
Reference:
Some information above concerning Oom Dawid's life was obtained from Oryx Multimedia 
Photos: Andrew Zylstra