If we scaled the entire human history into a 24 hour day, what would that timeline tell us?
We did just that with an article with an article published in the CXPRESS, the regional paper of the Garden Route, South Africa (see: Zylstra & Nilssen – CXPRESS 12 Feb 2020)
An extended and easier-to-read version of this article follows:
It's midnight and we're on watch: the last 24 hours of 'ourstory'
As a contribution to the History Festival in Plettenberg Bay, we created a locally relevant timeline and "overview perspective" based on recent scientific and genetic discoveries in this fast-moving and rapidly changing field.
We have found this perspective to be most insightful when the modern human (Homo sapiens) timeline is scaled to a 24-hour day; where 1 hour = 10 000 years. Current scientific consensus suggests that we as Homo sapiens came about up to 300 000 years Before Present (BP). For ease of calculation on this 24-hr timeline, let's just say that Homo sapiens date back to 240 000 BP. Some approximations are therefore made for earlier dates and rounding-off done for later more specific dates to simplify the timeline presented. Note that timelines are constantly shifting.
Timeline of Human History in a 24 hour day
(with particular relevance to the Southern Cape of South Africa)
00:00 (~ 240 000 BP): Homo sapiens emerge during these first few hours of the period called the Middle Stone Age (MSA).
06:00 (~180 000 BP): Our early ancestors become active here along the Southern Cape. Ice-age conditions around this time lead to scarcity in environments that could sustain life and may have forced people to move to other areas or disappear entirely. But here on the Southern Cape there was an abundance of high-quality nutrition from both sea and land. Sites have revealed the presence of fish, shellfish, marine mammals, terrestrial mammals, reptiles, birds as well as plant foods such as bulbs, corms and tubers (geophytes). Edibles that don't fossilize well likely included a wider variety of sea animals and plants, terrestrial fruits and nuts as well as insects. Bones of Homo sapiens found in an Israeli cave show that one of the earlier – and maybe first – minor migrations out of Africa already occurred around 170 000 to 190 000 BP. Initial mixing and interbreeding with Neanderthals likely.
08:00 (~160 000 BP): We 'wake up' fully as modern humans displaying the first known forms of creative and symbolic expression, more advanced cognitive thought, use of compound tools, and evidence of 'culture' (sense of identity). Significant discoveries at the Pinnacle Point Site Complex near Mossel Bay include very early evidence for pyrotechnology in the form of heat-treated silcrete (stone used for artefact manufacture) as well as utilised ochre for the likely production of 'paint'.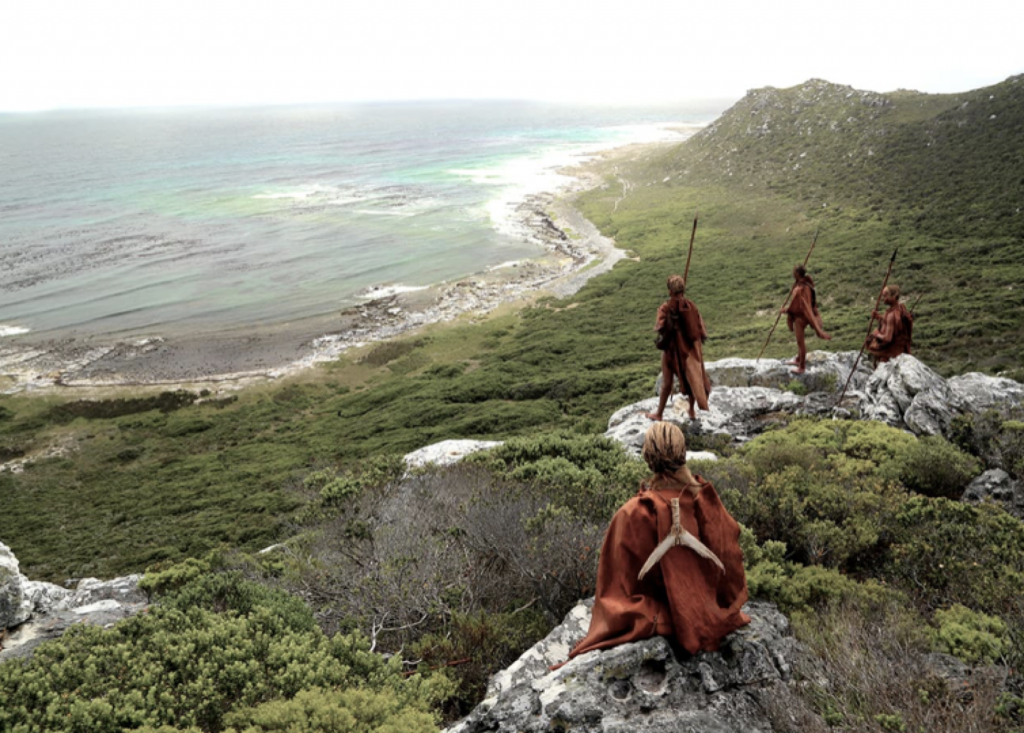 14:00-17:00 (~100 000 – 50 000 BP): Further evidence of our more significant (coastal-based) migrations out of Africa. Humans remaining in southern Africa are likely the closest ancestors to the peoples commonly referred to as San. Our species reaches present-day China during this time.
14:00 (~100 000 BP): In Blombos Cave (near Stilbaai/Still Bay), our species creates bone tools, heat-treated silcrete and use abalone shell container with ochre powder (pigment). These are pieces of evidence for behavioural modernity among humans along the Southern Cape coast.
16:30 (~75 000 BP): In Blombos Cave, we are making cross-hatch incisions on pieces of bone and ochre. These 'entopic phenomena' show definitive signs of symbolism or abstract art.
17:00 (~70 000 BP): Some of us reach Southeast Asia, and have interbred with Neanderthals but, even more so, with the Denisovans (an extinct archaic hominin species that ranged across Asia, whereas as their distant relations the Neanderthals were more present in Europe and west Asia).
17:30 (~ 65 000 BP): Humans reach Australia.
19:00 (~50 000 BP): We spread 'out of Africa' in greater numbers around this time.
20:00 (~40 000 BP): Our species spreads across modern-day Europe; Later Stone Age (LSA) begins. Within a few thousand years of our arrival in Eurasia, Neanderthals go extinct (at around 39 000 BP), although interbreeding occurred prior. The cause of their extinction is not certain but may involve the arrival of Homo sapiens, a 'climatic winter' caused by a volcanic eruption in southern Italy, or a combination of both, and other factors.
22:50 (~11 500 BP): The site of Gobekli Tepi (in present-day Turkey) is active, consisting of rings of massive stone pillars, engraved with images of animals. This was seemingly a place of worship for people who, based on the bone evidence, were otherwise still living a hunter-gatherer existence but on the verge of domesticating their wild sheep and wild grains.
 22:55 (~ 12 000 – 10 000 BP): Agriculture and cultivation are widely developed and practiced across Mesopotamia and the present-day Middle East. (although evidence suggests that various indigenous groups (across the Americas, Africa and Australia) were practicing more subtle forms of 'farming' such as the practice of controlled burning.
 23:00 – 23:25 (~11 000 – 6 000 BP): We learn to domesticate livestock, initially sheep and goats, and horses later (recent evidence suggests dogs may have been domesticated much earlier). Early traces of Bantu-speaking people in West Africa. Evidence of Khoekhoen, San, 'KhoeSan' culture and artefacts in Southern Africa, incl. rock engravings & paintings, bows & arrows, ivory.
23:27 (~5520 BP): The wheel is invented. Written language first appears around this time.
 23:30 (~5000 BP): The rise of the Yamnaya culture – descendants of Ancient North Eurasians, and originating in the steppe north of the Black and Caspian Seas – changed many of us. The Yamnaya appeared to have used the invention of the wheel and the domestication of the horse as a pastoralist technology that allowed them to exploit resources on the steppe landscape at a large scale. Recent genetic analysis shows that over the subsequent 500-800 years, the Yamnaya move west plundering many of the other isolated, localised cultures.
Yamnaya descendants spread rapidly across the region, genetically replacing 40% of the population of present-day Iberia, 70% of the population of present-day Germany, and 90% of the population of present-day United Kingdom, just after the pre-existing population completed the building of Stonehenge. Much of the population replacement was male population replacement, suggesting that the outside Yamnaya males had preferential treatment over – or forcible relations with – the pre-existing females of the region. The more benign iconography of the pre-existing cultures (which often featured female figurines) was displaced with more militant (weaponised and violent) male-centric iconography of the Yamnaya, who appear to have also imposed a more stratified and privileged culture of wealth and prestige.
23:30 (~ 5000 BP): Bronze Age begins (ends ~3220 BP), powered by Yamnaya advances. The materials for making bronze had to be sourced from hundreds of kilometres away and required long-distance trade, which likely led to wealth accumulation.
 23:33 (~4500 BP): Uruk in Sumeria is built and has been long considered the first recorded city in the world. However, the discoveries of Gobekli Tepi (Turkey, ~ 11 000 BP), Caral (Peru, ~ 5000 BP), and other sites are now challenging the accepted story of civilisation and birth of agriculture.
23:33 – 23:30 (~4500 – 3500 BP): Yamnaya spread back from present-day Iran/Eastern Europe toward the east, reaching present-day India. The Yamnaya are the likely source of the Proto-Indo-European languages, which is the precursor to all Indo-European (incl. northern Indian, Iranian, Germanic, and Latin) languages, and the most widely spoken language family in the world today.
23:30 – 23:35 (~3500-3000 BP): Indus Valley civilisation forms and spawns Hinduism.
23:44 (~2643 BP): Gautama Buddha is born and marks the beginnings of Buddhism.
23:48 (~2020 BP): Jesus Christ is born and marks the beginnings of Christianity.
23:50 (~ 2000 BP): Khoekhoen ('Khoi') nomadic herders move into present-day South Africa from the north and coexisted with existing San foragers in an apparently fluid relationship, although conflicts almost certainly occurred.
23:51 (~1449 BP): Muhammad is born and marks the beginnings of Islam. SiNtu (Bantu) speakers prevalent around Lake Victoria (Early Iron Age) seem to move rapidly down into eastern Southern Africa and eventually into present KZN. This was one of  – the most eastern of – three distinct waves of Bantu-speaking people into Southern Africa:
1. The Nguni branch (which officially includes Zulu, Xhosa, Swati and Ndebele languages);
2. Sotho-Tswana branch (which includes Southern Sotho, Northern Sotho and Tswana languages officially); and
3. Oshiwambo- Otjiherero branch, now comprising the most widely spoken languages in present-day Namibia.
23:54 (~945 BP): Mapungubwe Settlement Complex begins forming in the Limpopo Valley as a large subsistence farming community. It becomes a large Iron Age kingdom representing Africa's first class-based society and trades ivory for glass beads from India and China. Mapungubwe is abandoned around 23:55:48s (~700BP) and may have been the precursor for Great Zimbabwe.
23:55 (~800 BP): An Outeniqua Yellowwood (now known as 'The Big Tree') sprouts near Storm's River.
23:56:20s (~595 BP): Chinese Admiral Zheng sets sail with 317 ships and 28 000 men (10 times the size of Columbus' fleet), and sets up emissaries in countries around the Indian Ocean to facilitate and consolidate trade relations, including with East Africa.
23:57 (~532BP): Bartolomeu Dias sails around the southern Africa and stops at present-day Mossel Bay, and names Plettenberg Bay as Bahia das Alagoas ("Bay of Lagoons"). Four years later, Christopher Columbus 'discovers' the Americas.  A few decades later, a second wave of SiNtu speakers (whose culture, wealth and health were linked to cattle) arrive in present-day South Africa. The coastal forelands were home to the Nguni language group and mark the beginnings of what was to become the amaXhosa nation around the 1600s. Through probable confrontation, many the existing nomadic Khoenkhoen were either displaced or assimilated into the Nguni culture. Notably, the amaGqunukhwebe tribe that ranged between present-day East London and the Gamtoos River is mixed Xhosa and Khoekhoe Gonaquas.
23:57:40s (~390 BP): Portuguese sailors were stranded in Bahia Formosa (now Plettenberg Bay) after their ship, the São Gonçalo, sank enroute from India to Portugal. The 100 survivors befriend resident 'KhoeSan' peoples on Robberg Beach during the 8 months it took to repair their vessels.
23:58:30s (~260BP): The Industrial Revolution takes place in Europe. Dutch and British settlers expand their presence across the Cape resulting in violent confrontations with the KhoenKhoen ('KhoeSan') and amaXhosa. The Dutch have arrived in Plettenberg Bay a few years earlier and erect a wooden beacon on an island at the mouth of Piesang River and, soon after, Governor Van Plettenberg had established himself as a farmer in the area decides to name the Bay after himself, and erects a possessional stone of the Dutch East India Company above Central Beach.
23:59:05s (~200 BP): In Eden (Southern Cape), we transform much of the landscape and hunt existing mega-fauna to extinction or near-extinction. Over the last 60 seconds, the world population grows from 1 billion to 7 billion.
23:59:34s (~72BP): Apartheid formalised as policy in South Africa.  In this last 25 seconds to midnight, the world uses more resources than during the previous day (23h59m35s) combined.
To put the above into even greater perspective, modern humans have only been present for an estimated 0.007% of earth's entire history: that's barely 5 seconds within a 24-hour day.
This timeline perspective should awaken humility in us all. Even though the science of human history is evolving at a pace that is hard to keep up with, we know enough to reimagine who we are and act accordingly.  We know we have the power to rapidly destroy but also the ability to create, innovate and regenerate. We know that for at least 95% of our history we were more peaceable foragers living in tight egalitarian communities inseparable from nature.  We know that we were a highly mobile species and rarely stayed in any one place for an extended period of time. We know that the latest genetic and archaeological evidence reinforces the idea that we are 'all one' – sourced from a population that evolved in and spread out of Africa. But there is still much we don't know and we need to keep a humble open-mind as new discoveries are made.
But as the clock ticks beyond midnight, will we put aside our preconceived beliefs for the sake of humanity? In these times, we would do well to remember our shared roots: 'ourstory'. And choose the best version of human that we can be.
Dr. Matthew Zylstra completed his PhD in conservation ecology at Stellenbosch University (2014) and has an enduring interest in how human history informs our present-day (dis)connection with nature and each other.
Dr. Peter Nilssen obtained his PhD from the University of Cape Town (2000) and is a professional archeologist known for his collaborative research at Pinnacle Point leading to the world-famous discoveries contributing to the human origins story.
We are open to suggestions, comments and revisions so as to constantly improve and update this timeline.
Selected references & further reading:
"Who We Are and How We Got Here: Ancient DNA and the New Science of the Human Past" by David Reich
"The Patterning Instinct: A Cultural History of Humanity's Search for Meaning" by Jeremy Lent
"Active Hope: How to Face the Mess We're in Without Going Crazy" by Joanna Macy & Chris Johnstone
"East of the Cape: Conserving Eden" by Richard Cowling and Shirley Pierce
See also: "Pale Blue Dot" by the Carl Sagan Group
We acknowledge Joanna Macy & Chris Johnstone's book "Active Hope" for the idea of scaling human history to a 24 hour day; although, our version above has now heavily reworked their version so as to be regionally relevant and reflect the new and ongoing discoveries pertaining to the human story.