I was starting to get a little anxious. We had been waiting for a while now, hanging around outside the gate until the key was retrieved. We were on the perimeter of the mighty Kgalagadi (Kalahari) National Park, or more accurately land which was formerly National Park but was now under the custodianship of the original inhabitants, the Khomani San Bushmen.
The various antelope skulls affixed to the gate entrance only served to fuel the mystique of what may lie waiting for us beyond amongst the 25, 000 ha of vast undulating sand dunes.
Our friend used the waiting time to ask one of our Khomani guides, "Johan", about which animals were of significance or sacred to their people. As he articulated the answer in his endearing Bushman-accented Afrikaans, my brother and I found ourselves taking a closer look at these hanging skulls of the gemsbok (oryx), springbok, steenbok and wilderbeest.  A bizarre motionless shape suddenly caught our attention: it was a magnificent praying mantis, sheltering in the shade of the ageing bone crevasses of the gemsbok skull.
From the little we knew of Bushman lore, we knew the mantis to be highly significant, akin to a Creator Being for some Bushmen folk. And there it was, minding its own business, practicing that perfect pose of patience.
The potential synchronicity slowly dawned on us.
So we checked with Johan for his interpretation. Its beauty and significance then really hit home when Johan nodded in agreement and said, "Ah, it is welcoming us. It is looking towards the land and welcoming us in."  It was considered a good omen that the praying mantis was there at this moment to welcome us on the land.
Given that the gemsbok (oryx) was also an animal of significance itself, we wondered if seeing the mantis on its skull was an important association. We will never know for sure but out here nature was already having her way of orchestrating certain events into being – little magic moments of manifestation.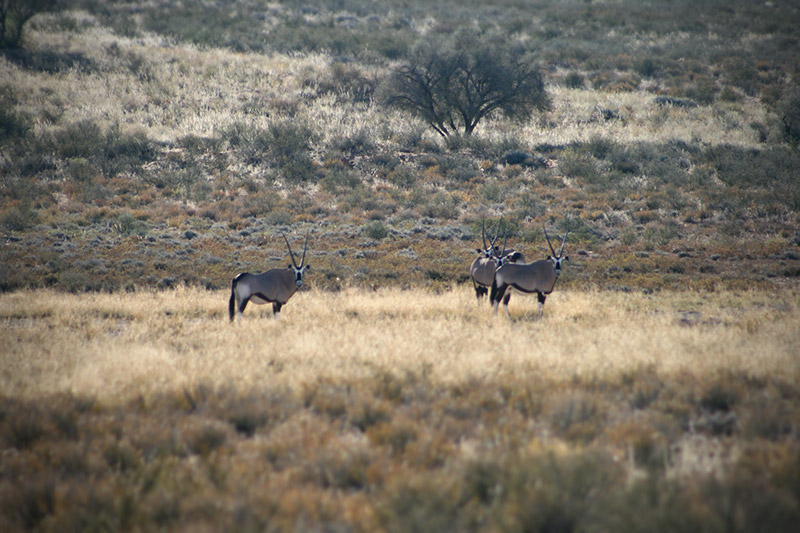 Entering the area, we took time to gather and remind ourselves on some of the principles of wilderness etiquette to orient us for the coming days. We gave thanks to our two Khomani guides for allowing us to accompany them onto their land.
We continued and just after crossing over the first sand dune, we were greeted by a herd of gemsbok that simply seemed to radiate in the afternoon sun. One of our other travel companions announced "Welcome to the Kgalagadi." And it indeed just seemed so fitting and a perfect welcome to this magic part of the world.
It felt mildly euphoric to finally be here: "The Kalahari" – a word that had carried so much unknown wonder throughout childhood. And now there was a blend of emotions for having finally reached this point after much planning and travel. It was a bizarre sense of "coming home", even though that seemed so cliché and wrong to say being the well-to-do Westerner kitted out with all our unnecessary luxuries. We were in a place totally foreign and which was the (former) real home of the Khomani, who continue to battle with health and substance abuse issues arising from their historic persecution and displacement into communities many kilometres away from the vastness which was now before us. But as we were to learn, for the Khomani also, being out here again, away from community life was also again about rediscovering and sharing that sense of "real home" within us.
The unending peace we were already starting to feel and the chance to be with people who were traditionally close to nature – so much more than any of us could ever conceive – made us pregnant with anticipation of what may yet unfold in the coming days…
To be continued…
Read Part 2: Tracking Leopard in the NeverEnding Story »
Read our tribute to Khomani San Bushmen leader Oom Dawid Kruiper »
References:
Special thanks to our Khomani guides Doppies (/Urugab) and Johan and to Wilderness Leadership School guides Benita, Glenn and Uli. The events described above occurred on 4th June, 2010, just over two years ago.
Photos by Andrew Zylstra