We were huddled around the small table enjoying home-grown food in Larize's cosy candle-lit cob house. For some reason the food here always tasted so good and tonight was no exception. Between all of us mmmm-ing and singing the praises of this simple gourmet, one of Larize's dinner guests, Ron, suddenly spoke up.
"What is your PhD about?"
I swallowed my mouthful and began reciting my usual spiel. I looked at them and, like  always, sought to judge how much detail I could reveal without confusing and losing their immediate interest.
"It is about meaningful nature experiences. So, you know, those profound kind of moments which people sometimes have in nature or with an animal." Given these people know Larize, and that Larize herself was sympathetic to this topic, I decided to push the boundaries.  "But I am specifically interested in that type of experience which could be called synchronicity."
Even though Ron was a lifelong and now retired geologist, I tried my luck in the hope that he would have some understanding of what I was referring to. After all, only minutes earlier, his partner had casually mused when sitting down at the dinner table about how, "the synchronicity has been everywhere" in terms of the emergence of her own PhD trajectory.
Theo's expressionless eyes gazed at me intently across the candlelight, like any curious but discerning scientist might.
"So what is synchronicity exactly?"
"What do you understand by it?"  This answering a question with a question was always a useful strategy, primarily in buying time to recompile my own answer, particularly in situations where I may have misjudged the other's knowledge of the topic.  But also because my research – and specifically through those I have spoken to – has found that understandings of the term synchronicity vary substantially.
"Well, I would say it is some kind paralleling of an event, when things come in equilibrium."
I could see where Ron was coming from. It was not unlike other interpretations I had heard before.
"Sure" I agreed. "In ecology it is sometimes used as a synonym for 'synchrony', the idea that natural systems and their components – like individual species – may find a spontaneous order between them, a survival strategy which can be used in managing risk.   And whilst this interpretation is increasingly being used in scientific journals, an important distinction needs to be made between synchrony and synchronicity.
Ron nodded expectantly.
"But when I use synchronicity, I specifically refer to the psychological construct of 'meaningful coincidence'."
"Ah, meaningful coincidence," Ron echoed with a sense of familiarity. "Okay then."
I felt a little more explanation was needed.
"Basically, when something experienced in our 'inner world' of thought, dreams or emotions parallels with something notable in the physical 'external world' and we find that paralleling to be meaningful."
It was not the most complete definition but, for a casual dinner table chat, it would have to suffice. Though I could have never anticipated what would follow.
Ron swallowed a piece of Lariza's freshly baked bread, raised a bushy eyebrow and with a gleaming eye said, "OK, so how about this one..?"
"I love riding through the Knysna Forest on my mountain bike.  On the four times I have been this year, at a certain point I have had the sense I would see an elephant, but I haven't seen one. A few weeks ago I was riding through with a friend and we stopped and I remarked, 'I think we are going to see an elephant.'  And ten seconds would not have even passed when I looked ahead and pointed, 'And there it is.'  There was an elephant about 50 metres ahead, looking toward us with trunk raised and flapping its ears."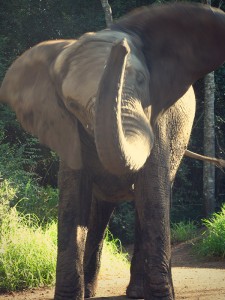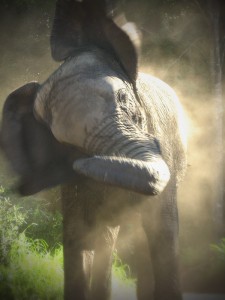 As Ron pointed intently to a fixed spot across the room, I felt myself travel along his index finger with his gaze such that I was also transported to the dark moist Knysna forest, illuminated only by penetrating strands of sunlight. In nervous adrenalin-filled silence, I was now also staring at what could have well been the famed yet elusive Matriarch.
I gradually came out of that dreamy space and looked back at Ron in disbelief. Whether this was now synchronicity or not, was temporarily forgotten – and possibly irrelevant.
"You saw a Knysna elephant?"
"Yes – only the second person this year, I believe." Ron's eyes smiled with satisfaction.
"Who ever sees a Knysna elephant?!" I exclaimed. "I can't believe it. I mean, we just drove through the forest and across Prince Alfred Pass earlier today with our students and I was waxing lyrical to them about the Knysna elephant history and mystery and that they are rarely seen, even when they are tracked. And I told them how I have spoken to park rangers and other researchers who have scoured that forest daily for years and have never seen a single elephant. And…"
I was lost for words, shook my head and gave a confused smile.
"Well, I guess that is synchronicity then."
In actual fact, one could argue if it this story truly exemplifies synchronicity in the stricter sense which I defined earlier. Though after a story like that, I was not really about to throw out a wet blanket in arguing the finer points. But I quickly collected my analytical thoughts on the topic and continued,
"At least in the sense of there being a paralleling between your thoughts and what happened in physical reality. But I guess it is almost more of what we could call… "
"Precognition?"
"Yes, exactly – precognition. Or 'second sight'. The controversial idea that one can have intuitive foreknowledge or premonitory sensing of an imminent future event, which some might say is a subset of synchronistic experience. Have you ever felt that kind of thing before?"
"Not really," Ron replied curtly. "But my father was a medium," he added as somewhat of an afterthought.
This was a big surprise to hear. Theo briefly recalled how his father had remarkable healing abilities which he invoked simply by moving his hands around a patient. As Ron motioned his hands, I immediately thought of Dr. Eric Pearl's work – and specifically his Reconnection book I had picked up at a second-hand book stall recently. The demonstration was identical to what I had both read and seen online. And, admittedly, I had initially found it very hard to believe that it was nothing more than a hoodwink, irresistible bait for the spiritually starved and homeless.
"And as a party trick my father would put his hand just above a table and lift it without touching it.  Or he would move a painting across a wall just by pointing at it."
I was astounded. As if a sighting of a Knysna elephant was not already enough for the night.
Ron said he had never shown any interest in pursuing the sort of paranormal things that his father had. In fact, he had more likely chosen – consciously or otherwise – to go in the complete opposite direction in dedicating his life to the very rational 'down-to-earth' scientific endeavour of geology. I was tempted to crack the obvious geology joke about 'having rocks in his head.'  But thought better of it and instead asked:
"I wonder whether it is possible to inherit that kind of medium-like ability?"
"I don't know." Ron concluded nonplussed. "But I definitely have something with the elephant."
References:
For other accounts from those who have had "something" with the Knysna elephants, check:
Elephantoms by Lyall Watson The Secret Elephants by Gareth Patterson
*The elephant pictured is a captive elephant from a sanctuary located nearby on the Garden Route: getting a sighting and a photo of its elusive wild kin would be almost too much of an ask.