You may have already listened to the special music track featuring the story of Craig's otter encounter.
Six months after that interview, Craig invited us to join him for a paddle in his ocean kayaks which we gratefully accepted.
We kitted up and launched. It was mid-afternoon on a stunning blue skied winter's Sunday – the waters were equally crystal clear and sublime. Absorbed with my fidgeting in getting accustomed to manoeuvring the new craft, I was initially oblivious to my surroundings as I gingerly paddled out. All of a sudden, Craig lets out a cutting whisper,
"There's an otter!"
There's suddenly an otter right in front of us eating a fish on the rock. And I think "Jeesh, this is extraordinary". Normally they just come out at dusk, or in the evening or whatever, y'know, amazing. A flurry of the words and phrases which Craig expressed during the retelling of his first otter encounter immediately raced back into my mind.   And now here it was again – as if scripted.
There were two otters just out on the rock in front of us, about 30 metres from shore. We had not even been in the water three minutes. We gently drifted towards them, holding our kayaks together silently as a raft formation and watching at distance. One of the otters dipped back in the water and within a minute emerged with a large pink coloured fish between its tiny paws. "What efficient hunters!" we marvel. The two otters intently milled around devouring the helpless catch. And we watched with joyful wonder.
Then came the moment of recognition which will always stay with us. One of the otters paused. It jerked a glance up in our direction. I felt myself hold my breath, sensing what could still unfold. The otter, at a distance of about 15-20 metres, bobbed its head up and down as if bringing us – the objects of its newfound attention – into focus, checking if it had correctly identified its target.
It immediately slipped into the water, ignoring the smorgasbord at its feet and leaving its partner to dine alone. Amidst the flotillas of kelp we did not see anything until semi-startled by a head that emerged right in front of our craft. It ducked underwater again, passing under the kayaks and surfacing on the other side. And then back under to the other side.  I gently submersed the GoPro camera* into the crystal clear waters and filmed the otter as it weaved alongside and underneath us. Its curiosity beckoned us.
I was filled with a sense of incredulity and disbelief to have been afforded this experience, along with a daring urge to drop into the chilly winter waters and pursue an up-close interaction. But I restrained myself.
The otter was with us for about ten minutes before vanishing. We were all mesmerized, silently shaking heads and looking at each other with bemused and privileged faces.  Craig revealed that despite swimming and kayaking these waters on a daily basis, he had only seen the otters once since his profound encounter six months earlier, and that was just a glimpse at distance.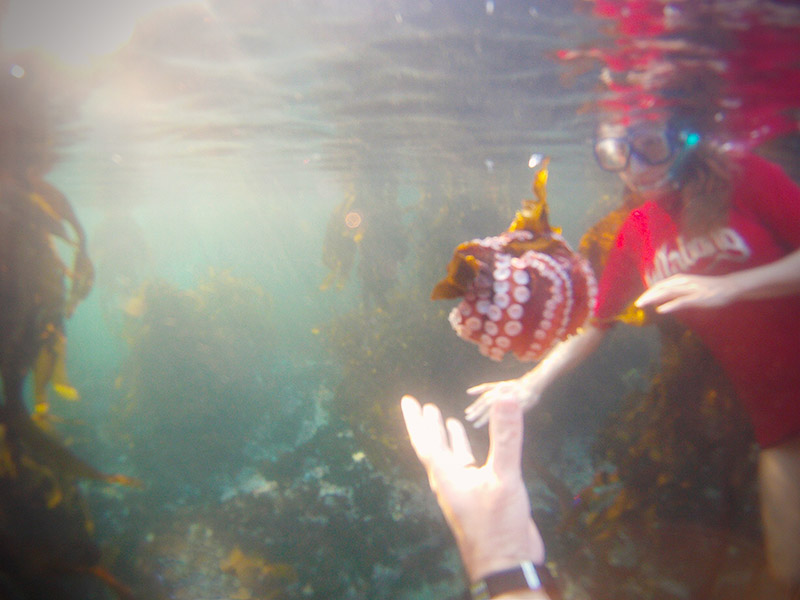 We continued to kayak the coastline, spotting inquisitive seals, shy sharks and finishing the outing with an energizing ice cold swim amongst the kelp forests where Craig spotted a beautiful octopus. As we carried the kayaks and gear back and forth from the beach to the house, I found I still had otter on my mind, processing the experience. Craig happened to start chatting with an elderly woman just outside our gate who enquired about our day. The exchange went something like this:
"It was a lovely paddle; we saw an otter right up-close too." Craig remarked.
"Oh really!" the woman exclaimed. "You know, about two years ago, I was swimming out here and I had an encounter with an otter as well. It came right up to me. I had never heard of anyone else who had also had such an experience."
Craig looked at me with a bewildered smile. This had indeed been a bit of a bizarre day.
And another chapter in this moving otter-sea.
*The GoPro uses a wide-angled lens making the otter appear further away in the video than it was in reality.