Read Part 1 of the Kalahari trail here »
We had joked beforehand that one of us would "call up a leopard" during our days out here in the Kalahari wilderness. Until now, that had been just a joke…
It was the morning after our arrival. And we had embarked on our first hike out from a little "base camp" which was perched on one of the endless undulating parallel dunes duplicating themselves into eternity.
That morning as we had descended into the valley, we became immediately enthralled as our Bushmen guides – "/Urugab" and "Johan" (we never learnt Johan's real Khomani name) – revealed to us the many stories of the landscape. These were not the traditional cultural stories etched in time, but rather the constant flux of nature's stories written in the sand and changing from day-to-day.
It was like an open sourced book – one that could be read as well as contributed to. Maybe you could call it WikiLandscape. Though I'd prefer think of it as the NeverEnding Story: a book that absorbs you such that you are suddenly one of the characters of the very story you are reading.
The stories scribed in the red sand carried so many characters, events and action which we would have otherwise never seen, without the help from our connected guides. From evidence of caracal (lynx) killing steenbok to areas where gemsbok (oryx) have duelled to all sorts of critters running to and fro, there was much to read and learn. But, at the same time, we were also now becoming part of the unfolding stories – some of the action was probably independent of us. But some was not….

On an adjacent dune to our camp, our group was preoccupied by the diverse animal spoor criss-crossing the sand for purposes unknown.  /Urugab and Johan – who had gone ahead to continue scouting – returned quietly and respectfully, motioning us to come over to where they were standing.
A leopard had been here. None of us would have ever recognized that we were standing above its early morning resting place. But sure enough, /Urugab and Johan were able to imitate the exact way it had been lying along with the story of when and why it was there.  The print was fresh – no other creatures or wind had disturbed this pressed pattern in the sand.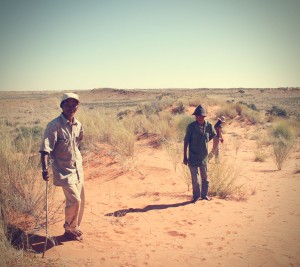 Johan pointed ahead with his slightly crooked index finger and said, "He is down there somewhere."
A nervous excitement came over the group. It was much closer than we originally thought. And it had moved more recently than we had first realized. Its departure may have well been a result of our imminent presence. We had now become a deeper part of one of the many the stories etched in this landscape.
"Following a leopard is looking for trouble, given how concealed he is and how obvious we are", /Urugab chuckles in his endearing Afrikaans, of which this English translation cannot do justice.
"If there are two of you tracking leopard and the spoor (footprints) suddenly ends, you don't have to worry: it is the oke (i.e. guy/bloke) behind you that is in trouble!"  The leopard is known for backtracking and encircling its prey to launch a surprise ambush from behind.
Even out here in the vast open Kalahari, vegetated with only grasses, small shrubs and patches of trees for cover, the leopard was the master phantom and we all had the sense that it was time to retreat. We might have been part of the story; but this was definitely not our territory. Our Bushmen guides indicated that out of respect, we should leave.
"I would be knocked out in the first round anyway", /Urugab quipped when pondering the possibility of coming up against the leopard face-to-face.
Our group turned and silently headed back toward our camp. Each of us taking turns to nervously look over our shoulder in the strange mixture of both hope and dread that we would catch a glimpse of this mighty predator.
As we walked back under the late morning sun, one our group remarked that he was sure he could feel those leopard eyes raising the hairs on the back of his neck as we walked back to camp. "I could just feel his eyes following me the whole way…"
There would be a few nervous sleepers that night, feeling all too conspicuous amidst the Nothingness.
Someone had indeed called up the leopard.
No we just hoped he wouldn't answer.
To be continued…
Read Part 3: Gift of the golden key »
Read Part 1: Welcome the Kalahari »
Read our tribute to Khomani San Bushmen leader Oom Dawid Kruiper »
References:
Special thanks to our Khomani San guides Doppies (/Urugab) and Johan and to Wilderness Leadership School guides Benita, Glenn and Uli. The events described above occurred on 5th June, 2010, just over two years ago.
Photos by Andrew Zylstra