One morning, in reflecting upon my need to make physical contact with earth the first priority of my day, I realized how easy it is in an urban setting to go for days without any part of my body actually touching 'nature' direct. So, with this awareness, I slipped off my footwear and decided to finish my breakfast standing barefoot on the tiny patch of grass lawn behind the suburban unit I was staying at.
Thoughts were already racing ahead and 'mind-scripting' a new blog I wanted to write. Earlier that morning, I had finalized another short piece called Something with the Elephant and, in doing so, had again encountered the common, and usually condescending, retorts that dismiss any non-ordinary phenomena – particularly that which may be extra-sensory in nature – as being subjective fantasy, delusional and incapable of withstanding objective scientific investigation.
From within a traditional materialist worldview, such sobering arguments appeared largely legitimate and justified. Yet the fact that they sometimes seemed irreconcilable with personal experiences (which suggests that reality does not always conform to often meaningless probabilities) caused me ongoing consternation. I was determined to continue challenging my own evolving convictions by deliberately seeking out opposing opinions of sceptics who denounce such possibilities (and who I hoped would also – but usually did not – provide robust evidence to support their counterclaims).
~ ~ ~ ~ ~ ~ ~
So on this crisp August winter morning, I was reminiscing about one such meaningful nature experience (MNE) that occurred in October 2011, while living in a remote cottage in rural South Africa. I had gone outside early to the water tank and recalled how, in the green grass beneath the tap, a tiny resident praying mantis could sometimes be observed.  It had been months since last seeing it – it had likely matured and long since moved on – but, on this day, I had the clear thought, "I feel I will see a praying mantis today." Turning on the tap, I peered hopefully between the well-watered grasses to see if this diminutive neighbour might be present. Nothing. I looked a little harder – still nothing. It was time to give up this wishful gawking.
The previous afternoon I had immersed myself in convincing rebuttals to the idea of one being able to find or extract any sort of meaning from coincidences. They were, as argued by these writers, purely statistical anomalies conforming to expected probabilities. Having taken their dismissals onboard, I made a personal resolve to refrain from any urges I may have had in interpreting events as being indicative of 'something more', and which might be regarded as apophenia1. I thus announced to myself:
Right, here you have it. Let it be noted that, on this day, I had subliminal thoughts about seeing the praying mantis and it is not here – those thoughts did not manifest into any appearance or anything meaningful. This is a clear counter-example which can be recorded as an instance when synchronicity did not signal amongst the stream of 'noise' in life. Done.
I returned indoors and continued working on my dissertation. Within an hour, an unmistakable creature was scaling the kitchen window outside: a praying mantis. The irony was impressive. It was the first mantis I had seen since an indelible encounter with two mantises one morning six months earlier. Now here she appeared, pregnant with meaning – a visitation inviting my admiration.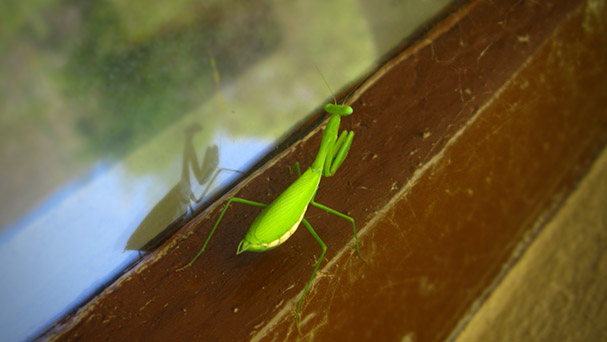 So back outside on my lawn in Australia, I was fondly reliving that day in South Africa and mentally penning the words of what would be a new blog on eyes4earth.org. Lost in thought, I decided that the concluding line to the story would be: "This event, of course, does not prove anything. Except maybe that Hermes – the Trickster in Greek mythology – is still alive and well."2
Standing there for a moment in the sun, I let those words sink in as the reflective green hues of plants beneath me met my gaze. I was satisfied with this conclusion and reasoned:
Indeed, that is the real truth here. These synchronicities, like seeing the praying mantis on that day in South Africa, are just a product of our searching perceptions and interpretations. And whilst it may meaningfully interplay with our consciousness such that it becomes one's personal (inter)subjective truth, it does not become scientific (inter)objective truth or 'reality'.  And just when you think it might, the Hermes in our psyche forces a rethink.
At that very moment, in the outside right corner of my eye, a dull light-coloured shape wafted from the lilly pilly tree to the ground beside me. With a fresh Westerly breeze in the air and the possibility of leaves falling at any moment, it is difficult to say why the movement arrested my attention. But a kind of numinous quality infused its slow-motion fall, which I can still vividly recall. With curiosity triggered, I felt compelled to locate this falling debris. Studying the pale coloured stones below, a contorted shape suddenly and starkly stood out from its surroundings: the moult from a praying mantis.
I was agape and struggled to fathom that which now rested in the palm of my hand.  Worlds collided – the inner world of chatter, recall and reason had suddenly met with the softly spoken outer world of master symbolism and imagery. Gazing at the tree, my mind wheeled in wonder as I processed the powerful message that had seemingly been imparted. Statistical anomaly or not, this event seemed beyond all likelihood in my world. The content playing on my mind at that moment was unequivocal. Of all the things to have been thinking, it was the mystery of Hermes the Trickster. Of all the things that could have appeared in that moment, it was the mantis – and in the deftest of ways.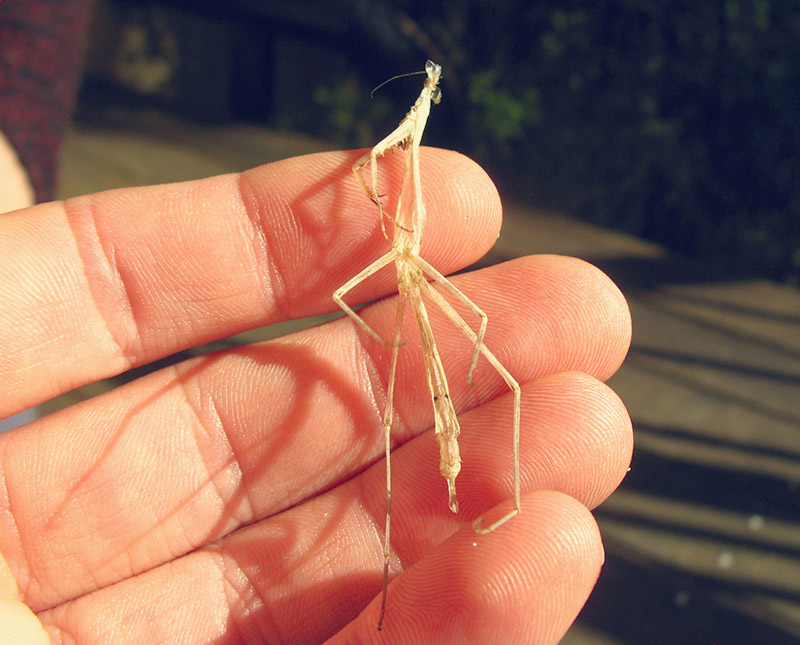 The day after, whilst returning from a vigorous yoga session, I reflected on the event and felt gratitude for these sporadic yet tantalizing life-enriching moments. In that instant, I had the odd sensation of hearing a subconscious voice announce: "Even the Mantis sheds its skin" – as if stated with some kind of authoritative wisdom. I gradually began to realize the depth of its profundity: maybe it was 'only' a moult but, given the personal and PhD research tussles I was having at the time, this rich symbolism indeed spoke volumes.
Science cannot solve the ultimate mystery of nature. And that is because, in the last analysis, we ourselves are… part of the mystery that we are trying to solve.
~ Max Planck (1859-1947)
I still question whether I have chronic apophenia and remain in denial about the 'severity' of my condition. Yet this inertia appears intrinsic to the essence of MNE and, upon reflection, seems to align with the Zen notion of 'middle way'. No matter how much evidence is accumulated one way or another, it is understood that one cannot speak the whole truth: there is always another side to whatever has been spoken (and experienced).3
Invoking the timeless image of the Taijitu (Yin-Yang), it feels as though every event (e.g. MNE) is encoded with both a logical biophysical explanation ((inter)objective) as well as an intuitive psychological narrative ((inter)subjective), wherein each interpretation always exists with and in its natural complement. Both are always present and both are essential. Such an appreciation signifies a fuller understanding of 'wholeness' or, as Arne Naess4 says: "Reality is all possibilities". So, as Jung conceded after returning puzzling results on his studies of synchronicity, I concur that "The question is still open…"
Footnotes:
1 Apophenia: the belief that synchronicities are more than the occasional signalling rising from the chaotic noise of everyday life. The subsequent connecting of dots in your life in a way that tells a story that you interpret as having special meaning is considered to be "true apophenia" (McRaney 2011). This is said to be the result of the most dependable of all delusions – confirmation bias: a tendency to see what we want to see and ignore the rest, in order to confirm our preconceived beliefs (McRaney 2011).
2 See Combs & Holland (1996) for a thorough overview of how the Greek god Hermes embodies the Trickster (of the psyche). I had actually been reading their work at the time of this experience and had recently learned that the scientific inquiry of 'hermeneutics' is also named after Hermes: it was his task to interpret the messages of the gods and make them understandable to the people – in essence a 'messenger' figure, translating what the gods had 'spoken' into meaningful and humanly understandable language (van Breda 2008).
3Riley-Taylor (2002)
4Naess (2008: 17)
References:
Combs, A., and M. Holland. 1996. Synchronicity: Science, myth, and the trickster. 2nd edition. Marlowe & Company, New York.
McRaney, D. 2011. You are not so smart. Dutton, Penguin Group (USA) Inc., New York.
Naess, A. 2008. The ecology of wisdom: Writings by Arne Naess. Page 339 (A. Drengson and B. Devall, Eds.). Counterpoint, Berkeley.
Riley-Taylor, E. 2002. Ecology, spirituality & education: Curriculum for relational knowing. Peter Lang, New York.
van Breda, J. 2008. Overcoming the disciplinary divide: Towards the possibility of a transdisciplinary hermeneutics. Pages 91–134 in M. Burns and A. Weaver, editors. Exploring sustainability science: A southern African Perspective. AFRICAN SUN MeDIA, Stellenbosch.