With knowledge of a Leopard in our midst, the previous evening's 'night watch' had more of an edge to it than the first night. But that solo hour spent tending the comfort fire is deeply nourishing soul time. The periodic sentry walks along the dune to direct the torch into pitch black nothingness – and occasionally pick up the reflective shine of an unknown something's eyes – is a satisfying rush of aliveness.
There was no sign of an inquisitive Leopard – thankfully – and when dawn finally joined us it unveiled an utterly resplendent morning. As the sun rose and emerged over the endless green-brown dunes undulating in all directions, you had the sense it was going to be a good day.
Opening the Path
I had only been up a little while when, near where I had been sleeping, I spotted a tiny Praying Mantis catching the sun's rays. I don't know much about mantid biology but it appeared to be positioned motionless by an egg sac – a nest of sorts – which may have been her own.
Neither did I really know much of the Mantis' significance at that point either.  But given our experience with the Mantis upon our arrival, we called over our Khomani Bushmen guides – /Ururgab and Johan [' / 'denotes a 'click' sound].  They found its appearance of immediate significance and smiled with approval.
(Look carefully and see if you can spot the mantis in the header image above)
They said that the presence of the Mantis in the morning would set the path and tone for the day. /Ururgab announced that he hoped it would be a beautiful day of seeing new things and he felt in his heart that would be given since the Praying Mantis had made its presence felt before the day was underway.
The Precursors
Not long after we started our hike for the morning we came across a bunch of feathers beneath a tree, which had once belonged to a Cory Bustard. /Ururgab gathered the feathers in a very careful and systematic manner.
We proceeded to walk on and, not long after that, we found some relatively fresh Brown Hyena spoor which was quite a discovery. After some more twists and turns following the spoor, we came across the Hyena's disused den.
From there, we came across the shrub from which Bushman cut the branches to make their traditional bows. As we continued to walk, /Ururgab and Johan constantly tensioned the malleable wood across their shoulders. One day it would make the ideal bow.
/Urugab was off ahead again – he seemed like a man on a mission this particular day, as if something had opened up for him. This time he returned with a beautiful set of feathers, which had been adorned by the mighty Secretary Bird, before it had become the prey of a Caracal (lynx/rooikat). He reverently laid the feathers at the base of the tree after sharing with us the story of the bird's demise.
We had reached our furthest point for this morning hike and began to head back to complete an ambling loop-like circuit.
The idea was to walk in single file with some distance between us so as to have a chance to utilise all our senses; to actually feel what we were doing. We walked over a large dune and as we descend down the other side, a short sharp whistle came from behind us atop of the dune.
It was /Ururgab. He was signalling to us to come back to where he was standing.
The Ultimate Find
There all around on top of the dune were broken eggshells. You could see immediately that /Urugab was moved. And we must have spent half an hour engaged at this spot as /Urugab revealed to us the profound significance of this find to him. The morning – as if choreographed – had weaved toward this crescendo, and it started with the Praying Mantis signalling it would be a special day. This had been followed by finding the feathers of the Cory Bustard, and then those of the Secretary Bird. And now here, as if scripted, /Urugab had followed his sense of intuition to come across a large disused Ostrich nest. "My soul led me to this spot", he announced gratefully.
/Ururgab articulated why this find and these shells were so important to him. He felt it as a reward for him for all the things he was trying to do within his community and beyond, to save the dying Khomani culture by sharing his knowledge before it is too late. These Ostrich shells which he was now gently digging up from the sand could be used for multiple purposes: they could be ground up and put around a child's neck as preventative medicine; women could use them for ornamental purposes; or they could be crafted and sold onto passing tourists as they entered the public entrance to the Kgalagardi Transfrontier Park. In this sense, these shells would provide a small but much-needed economic return as well.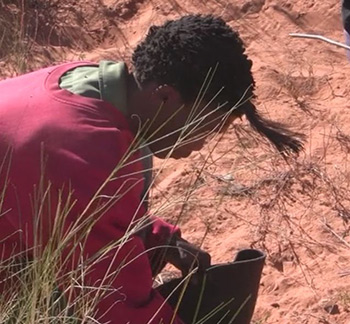 Johan watched on, silently collecting shell fragments as /Ururgab knelt before the find. Johan had found an ostrich feather which he had now placed in his hair, seemingly as a sign of respectful acknowledgement for the find – but maybe it was just because it looked cool.
/Urugab continued to dig carefully with his hands, finding more shells and coming to the conclusion that this nest must have been used at least twice previously. Perched atop of the dune is a prime spot for a nesting Ostrich because they have a better chance of detecting any would-be predators.
/Urugab said it was important that he must protect this spot.
White Forget
Interestingly, this protection would actually be to ward off fellow Bushman who may come to visit this area. But the form of that protection was extraordinary: /Urugab said that when he returned home to his community area, he would pull out the bag of bones which they use to perform ritual. Along with a particular 'power plant' which they call 'Witvergeet' ('White Forget'), it would be used to communicate with unseen and heavenly forces so as to protect the spot.
How it would work in practice is that when another Bushman would be intuitively headed toward the same spot, the Witvergeet would essentially intervene and cause the approaching person to have a 'blank' or forget why he felt he should be headed in that direction. He would subsequently turn around and go the other way, thus keeping the spot safe from other's hands.
It was not meant to be a selfish action: /Urugab said that in using Witvergeet it would protect the sanctity of the place for other Bushmen who may visit. Khomani San knowledge and ethics were rapidly being eroded and /Ururgab decided this place needed to be kept as special as it was for the generations before him, and similarly preserving that for the generations after him.
Genuine Respect
Embedded in this whole episode were three powerful insights:
A genuine ethic of sustainability in tending the land;
A matter-of-factness or practical understanding of 'oneness' which allows for communication on different levels (telepathically or by invoking other energies and unseen forces); and
A continuous state of humbled respect and gratitude.
People these days proffer much rhetoric about 'respecting the environment' – myself included. But until I was in the company of these diminutive Bushmen, I can say I did not really understand what real respect is. It is not just an intellectual vocalization which chirps "We respect the environment". For these Khomani San out here under the Kalahari sun, there is a respectful presence in every word, in every movement of their body, in every gesture. Their respect also manifests as a gentleness which is evident when tending the fire, gathering feathers, digging up edible roots, or observing tracks whether made by cheetahs or ants.  There is respectful dialogue with the rising sun which ushers away the cold winter nights. And respect comprises tangible and intangible actions: the notion of giving back when taking anything from nature is implicit. We were all permitted to take some Ostrich shells, but we too needed to give back.
/Ururgab gave some of his saliva, I pulled a strand of my hair (based on what I had seen the Bushmen do a day earlier), and my brother innovatively created a miniature shrine-like structure from scattered twigs. This find became momentous and emotional for all of us, particularly as we gradually digested the stories which arose about how important it was to /Urugab and Johan, and, amazingly, how it all was perceived to have been foretold by the presence of the Praying Mantis, and all the subsequent connected events which built up to this moment. And of course how intuition seemed to be guiding /Urugab the whole way.
The Ultimate Find +
Just as we were all departing the scene together, something pulled /Urugab in the other direction and he continued to walk to the left, along the top of the dune. As if we were not already reeling from his spectacular find, /Urugab managed to uncover two perfectly intact egg shell halves from under the sand. A stunning gift!  /Urugab added these to his collection of shell fragments he was carrying in his cap.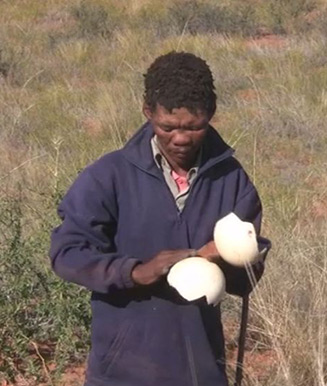 That seemed the most fitting conclusion – words could do little more to emphasise it – and we continued our silent reflective walk back to our camp.
It was already a remarkable day and it was only mid-morning. The amusing thing was that that morning I had been interrogating myself about whether I should be better preparing for these days in the Kalahari. This was related to my research on meaningful nature experiences – whilst this trip was not a formal component, I nevertheless wondered if I should have been giving thought to specific questions for the Bushmen, so as to get the most out of this trip.
But there it was on cue: the meaningful events spontaneously emerging from the landscape. These were true lived experiences, as they happened pre-reflectively. I felt a sense of grace to be part of this story and realized there is no better way to convey or illustrate the meaning of these experiences than this.
Praying for Permission
After the emotions slowly dissipated, my mind reengaged with a flurry of self-chatter as I sought to process everything I was experiencing. Similarly, I wanted to ask /Urugab and Johan more about their interpretations. I desperately wanted to try and share all these experiences with others, but I also felt they were somehow private.
Meanwhile, as I wandered, I felt that there seemed to be a different energy and vibe now. Something had shifted after this morning of wondrous treasure hunts, but it is possible the only thing that had shifted is my perception. But that's not a small 'only'; that's a big and grateful 'only' because I would be happy for these kind of perceptual shifts any day.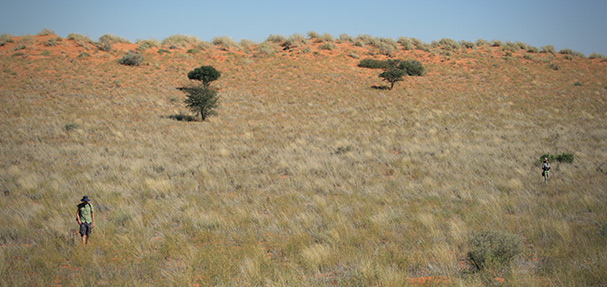 Still, I was caught up with in-depth thinking – my thoughts grinding away with how I could ask the Bushmen about whether they would permit me to share all we have learned from them during these days with other people. I wanted to ask a fellow member of our group if she would kindly ask permission from them. And I wondered how I could explain to the Bushmen that we would like to share these experiences through a variety of ways: weblog, photos, video or scientific or popular articles.  It was tormenting me. Then I worried about…
… Boom. At the very moment that I wrestled most with these questions, something scurried across my path: a little Praying Mantis…
This stuck me with indescribable enormity. I was hugely affected and dropped to my knees in reverence for this extraordinary encounter. Of all creatures which should crawl across my path at that moment…and then to stop and look up at me, with apparent curiosity, as I looked back at it with words of astonishment… was almost too much. I looked at the sky or universe or whatever to say another round of thank you's.
In that moment, I felt that it was a confirmation from the ancestors or wisdom of this land that I was being afforded some kind of permission to share these stories for the benefit of other people.
Maybe I had been perfectly primed for that encounter, in terms of extracting a meaning which I may not have otherwise done in other more normal circumstances without the Bushmen's immediate influence. But these thoughts came later.  In that pre-reflective moment, as I lived it, nothing could dilute the profound meaning and message.
The Golden Key
That evening, huddled around our final campfire, we more formally asked /Ururgab and Johan permission to share our experiences with others once we left their land and guidance. What ensued was an extended response which pretty much brought everyone to tears, even those of us who could not really understand Afrikaans.
However, in a slightly bizarre twist, whilst we know approval was generously given, all of us in the group that night seemed to suffer from a case of 'Witvergeet' ('White Forget'). In subsequent days, we all struggled to recall any of the poetic and moving words which these Bushmen bestowed upon us as encouragement for carrying their message forward to the world.
Just like the Ostrich shells, we could only take fragments of the conversation with us. It was /Ururgab and Johan who retained the two complete egg-shell halves, the complementary messages and stories which only they will ever be able to reconstruct in their completeness.
Our fragments included recollection of words expressing urgency that "time is running out" for initiating the necessary change.
But there is one more thing I do vividly remember – and which will forever remain etched in my mind alongside a backdrop of glowing embers, chilled Kalahari air and ringing silence under a vast star-filled sky.
Johan's melodious yet husky tone, voiced words of immeasurable responsibility:
"You have been given a golden key. Now you must go and use it to unlock the doors."
Our golden key had been our shared experiences during this wilderness trail. This was the key to unlocking people's minds in the hope we might be able to expose others to the wisdom and deep connection begging to be rediscovered here on earth.
We hope you  will enter the door which is opening before you…
Under stars of the Kalahari
Bushmen bestow a golden key
Tasked with a responsibility
To unlock doors within humanity
Conveying their words with clarity
Imparting wisdom with humility
Feeling the Bushmen's dire urgency
To look through their eyes and truly 'see'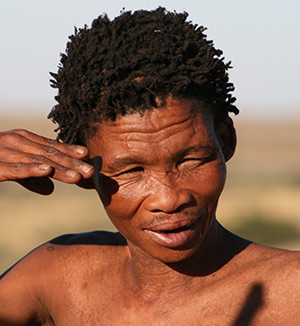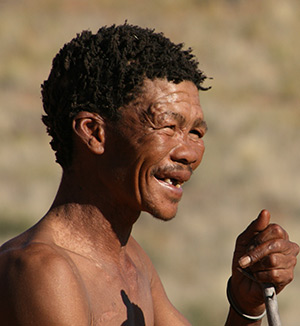 Read Part 1: Welcome the Kalahari »
Read Part 2: Tracking Leopard in the NeverEnding Story »
Read our tribute to Khomani San Bushmen leader Oom Dawid Kruiper »
References:
Text: Matthew Zylstra
Images: Andrew Zylstra
Special thanks to our Khomani San guides Doppies (/Urugab) and Johan and to Wilderness Leadership School guides Benita, Glenn and Uli. The events described above occurred on 6th June, 2010.