This Earth Day we remind ourselves of the awesome adventures of "The Question": i.e. "What did nature do for you today?" EarthCollective's eyes4earth.org initiative first asked this question to the public four years ago today. And since then this simple but powerful little question has been lucky enough to have had fun travelling the world and unlocking insights in various locations and languages.
The Question has traversed Australia – from the capitals like Brisbane, Sydney and Adelaide to festivals with well-known Australian musicians in Victoria. The Question has been out to Petersham Park and Southton.
A highlight was when The Question surfaced in Aboriginal Arnhem Land and received humorous responses from resident mine workers (now with 1500 views on YouTube) and also was privileged to have Federal Minister Peter Garrett give his opinion.
The Question spent time in The Netherlands probing visitors to festivals like the Liberation Day in Wageningen. And this effort dished up some interesting initial results about we perceive nature does for us most. We also received one of our most insightful responses on Earth Day 2007 in Arnhem.
We even got a little eerie and ventured into the woods to ask "What did nature do for you tonight?"
The Question popped over to Germany to stimulate a gathering of international students to look at their surrounds with new eyes in valuing the importance of biodiversity.
The Question meditated at the IUCN World Conservation Congress in Barcelona and was delightfully answered by respected religious and spiritual leaders… who also shared with warming insights about what they did for nature that day.
The Question sailed the Oceania last year visiting Pacific islander communities along the way.
The Question has been answered online by respondents from Brazil, England, France, Germany, U.S.A… many of which we still have stockpiled to post on maps at eyes4earth.org as soon as we can make the time.
We have audio and visual material of Serbian children answering The Question both in words and art. A former Wageningen University student integrated "The Question" as a central part of her PRESENCE research on South African children's perceptions of the nature and the benefits it provides them.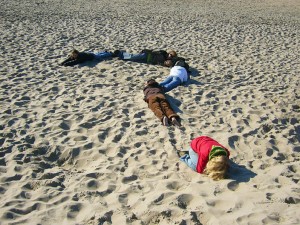 A few years ago, Wageningen University nominated "The Question" to represent it in the national Academic Year Prize for communicating science to the broader public. And in 2007 and 2008 Canon Australia awarded its Environmental Grant to "The Question" as a creative way of engaging the broader public with conservation.
Diverse answers to "The Question" played an influential role in shaping eyes4earth.org's current research and education focus on meaningful nature experiences and profound encounters with wildlife.
All the while, these activities have served to raise awareness about the general public's understanding of the concept of the term 'ecosystem services'… and whilst we can't attribute it to The Question, we are have been heartened to see other organisations taking up a similar concern.
We have had help in achieving these milestones. Too many people to mention here have generously volunteered their time, energy and creativity to keep this little fun idea rolling along for the benefit of global awareness-raising. Their efforts have stimulated little springs of gratitude for the ways in which nature supports us every day.
We thank all those who have helped us along the way;
And to everyone else we ask: